South Umpqua Headwaters Precontact Reference Conditions Study
Jackson Creek Subbasin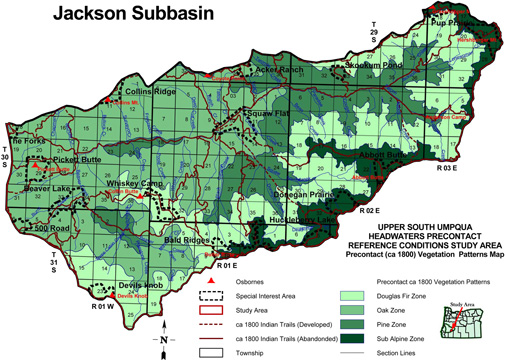 Jackson Creek subbasin map, with ca. 1800 Indian Trails and ca. 1800 Forest Vegetation Patterns.
The Jackson Creek subbasin is 101,995 acres in size and includes Beaver Creek, Whisky Creek, Squaw Creek, Abbott Creek, Lonewoman Creek, Tallow Creek, Freezeout Creek, and Bullock Creek as principal tributaries. It is the largest and southernmost subbasin in the South Umpqua Headwaters Reference Conditions Study, containing three entire 23,000-acre Townships and portions of seven others; eight Fire Lookouts from which Osborne photos were taken in the 1930s; and 16 of the study's 25 designated "Area of Special Interest."
TOWNSHIPS, MAPS, PHOTOGRAPHS & ORIGINAL LAND SURVEYS
Note: Because of the intended purpose of this study -- to assemble and document precontact land use and vegetation pattern reference conditions – particular attention has been placed on selecting special interest areas that might best represent precontact ("pre-1826") conditions, or contain information by which such conditions might be more readily inferred or determined: such as relict plant populations (including old-growth trees and other persistent vegetation patterns) or archaeological remains. For that reason, selection bias was given to known and suspected seasonal Indian villages, campgrounds, and other primary precontact destinations; such as likely hunting, fishing, gathering, trading, and food growing and processing sites.

© 2010, 2020 Oregon Websites & Watersheds Project, Inc. & NW Maps Co.