South Umpqua Headwaters Precontact Reference Conditions Study
Areas of Special Interest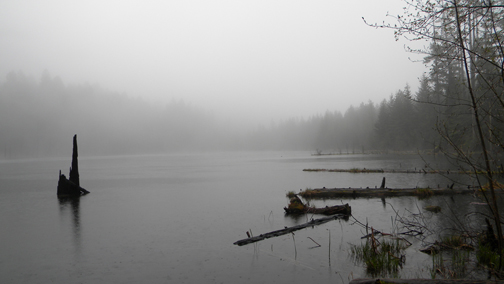 Skookum Pond, evening, South Umpqua River, Douglas County, Oregon, April 20, 2010. (B. Zybach).
The following list of 25 bounded areas was compiled because of their special interest to the 2010 "Upper South Umpqua Headwaters Precontact Reference Study" project. The determinations were made following discussions among project principals that focused on the study's research design, combined knowledge of the landscape, personal field observations, and detailed considerations of relevant historical documents, including: written and oral histories, aerial and terrestrial photographs, original land survey records, current and historical maps, and government reports.
The resulting "Areas of Special Interest" were then systematically selected, based primarily on geographical location, geological formation, cultural and historical significance, and vegetation type. Every effort was made to select a widely diverse group of locations that would best represent the entire study area (see "Note" below). The primary research purpose of these areas is to provide a practical means to sample and test key portions of the study in greater detail, so that findings might by generalized with some confidence over the entire landscape. In this manner, future aerial and terrestrial photographs, tree ring counts, direct field observations and measurements (e.g., Dubrasich 2010), timber cruises, tax maps, and other methods can be used to more closely examine these key locations for similar projections. The principal purpose of establishing these "reference conditions" is to provide measures of both desired and changing landscape conditions that can be refined over time for forest planning and management considerations. These may be most evident for management purposes related to wildfire mitigation, wildlife habitat creation and maintenace, economics, and recreational visitors.

© 2010, 2020 Oregon Websites & Watersheds Project, Inc. & NW Maps Co.