South Umpqua Headwaters Precontact Reference Conditions Study
Documentary Field Photographs: Chronological Index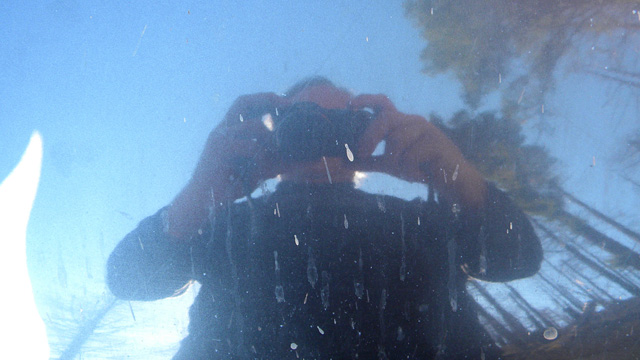 Reflection in a spattered Mitsubishi hood (B. Zybach, 2010).
The purpose of the South Umpqua Headwaters Precontact Reference Conditions study is to produce a reliable landscape-scale description of late precontact (pre-1826; ca. 1800) forest conditions for the eastern portion of present-day Tiller Ranger District of the Umpqua National Forest in Douglas County, Oregon. The primary intended use of this information is to help update Community Wildfire Protection Plans.
The following table provides links to the historical aerial and Osborne panoramic photos and to the documentary field photographs assembled for this study. Field photography was performed by Bob Zybach and Nana Lapham of ORWW, using methods developed and refined in earlier ORWW projects -- including the 2004 B&B Complex and the 2008 Owl Ridge Trails reports. Field photos were taken from January 9, 2010 through July 31, 2010 and are arranged by the day and sequence in which they were taken. They can be accessed via the list of linked Excel and HTML databases, or by mapped locations on the Douglas County Surveyors website. Human figures, hands, and/or vehicles are used throughout the documentary process to provide consistent scale to forbs, trees, streams, geological formations, and other features of interest.
A complete inventory of all documentary photographs taken in 2010 for this project, including legal descriptions, GPS coordinates, hyperlink addresses, and content summaries, can be obtained in Excel format at: http://www.orww.org/Rivers/Umpqua/South/Upper_Headwaters_Project/Photographs/Databases/2010_Totals.xls
Humor Alert: This is only a temporary webpage for the project photographs and some of the icons used to represent different field days on this project were chosen for reasons of frustration ("dead-ends") and/or humorous events and will have served their purpose when this website is next updated. Once necessary funding is obtained, the plan is to use the photographs in indices of individual photo icons, as we have done with the maps, but divided into discrete collections of subbasins, plant species, wildlife, and landmarks. At that time divisions of photographs by calendar day will end (except in archives), and this page and whatever levity it contains will disappear.
NOTE (December 15, 2010): There has been some difficulty with QTVR panoramic files made for this project, in that some browsers or platforms are importing grainy, undersized files that cannot be expanded to fit the screen. This has not been a problem in the past, and we are working to fix the problem at this time.
January 9, 2010

HTML

January 10, 2010

HTML

April 19, 2010

HTML

April 20, 2010

HTML

April 21, 2010

HTML

May 12, 2010

HTML

May 13, 2010

HTML

May 25, 2010

HTML

May 26, 2010

HTML

May 31, 2010

HTML

June 1, 2010

HTML

June 2, 2010

June 3, 2010

HTML

July 12, 2010

HTML

July 13, 2010

EXCEL

HTML

July 14, 2010

EXCEL

HTML

July 15, 2010

EXCEL

HTML

July 16, 2010

EXCEL

HTML

July 26, 2010

EXCEL

HTML

July 27, 2010

EXCEL

HTML

July 28, 2010

EXCEL

HTML

July 29, 2010

EXCEL

HTML

July 30, 2010

HTML

July 31, 2010

HTML

© 2010, 2020 Oregon Websites & Watersheds Project, Inc. & NW Maps Co.