Owl Ridge Trails Report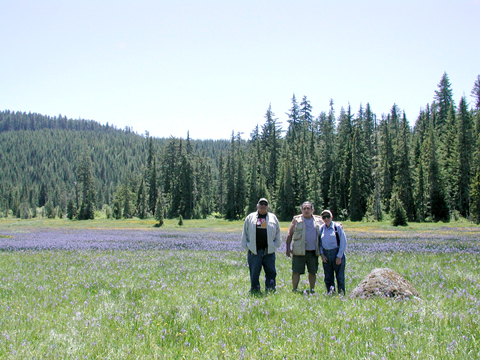 Bob Tom, Don Day, and Wayne Giesy at Gordon Meadows, June 17, 2007.
Location and Documentation of
Primary Travel, Trade, and Resource Use Trails of the Santiam Molalla
in the South Santiam River and Blue River, Oregon Headwaters, from 1750 to 1850
Final Report by Dr. Bob Zybach
Program Manager, Oregon Websites and Watersheds Project, Inc.
Prepared for David Lewis, Cultural Resources Director,
and for the Tribal Council of the Confederated Tribes of Grand Ronde
June 30, 2008

Winner of 2009 Oregon Heritage Excellence Award!
Gordon Meadows Restoration Plan
| | | | |
| --- | --- | --- | --- |
| | | | |
| Elders at Gordon Meadows | Location of Study Area | Santiam Molalla Trail Network | Predictive Map Development |
| | | | |
| Fishing Rock | Dobbins Creek Falls | Bear Pass | Old-Growth |
| | | | |
| Camas Prairie | Blue Huckleberries | Beargrass Meadow | Elk and Willow |
| | | | |
| Cascadia Cave | Unnamed Rock | Wolf Rock | Future Generations |
Cover, Mission Statements, Acknowledgements, Table of Contents, Executive Summary
PDF_1.86_mb.
Mission Statements & Acknowledgements

1. Santiam Molalla History, Culture, and Geography

PDF_11.75_mb

Map 1. Location of Owl Ridge Trails Project to western Oregon ceded lands

2. Project Research Methods and Boundaries

Map 2. Annotated fragment of 1907 GLO map of Tsp. 15 S., Rng. 4 E.
Map 3. Annotated fragment of 1895 GLO map of Tsp. 15 S., Rng. 4 E.
Map 4. Annotated fragment of 1901 USDI map of central Oregon Cascades

Figure 1. Excerpt from 1903 USDI Plummer report re: Tsp. 14 S., Rng. 5 E.
Figure 2. View east from Cone Peak, July 1902
Figure 3. View south from Cone Peak, July 1902
Figure 4. View from Iron Mountain, northeast to south, September 1933
Figure 5. View from Twin Buttes, south to northwest, September 1933

Table 1. Repeat aerial photography of Latiwi Mountain Trail, 1946-1981
Table 2. Owl Ridge Trails Project 2007 field surveyors

3. Named Rivers, Creeks, Peaks, Other Landmarks, and Destinations
PDF_4.78_mb
Table 3. Santiam Molalla landmarks
4. Primary Trail Network and Seasonal Use Patterns

Map 5. Index map of 32 named Santiam Molalla primary foot-trail segments

Table 4. Relative elevations of key Santiam Molalla locations

5. Cultural Plant Use and Management
PDF_3.92_mb
Table 5. Typical Santiam Molalla plant products
Table 6. Relative elevations of principal Santiam Molalla cultural plants
6. Fish and Game Products
Table 7. Local South Santiam River and Blue River wildlife species
7. Summary of General Findings
PDF_2.63_mb
Figure 6. Human presence on the South Santiam River
8. Discussion, Hypotheses & Recommendations
Table 8. Recommendations
References and Appendices
PDF_4.35_mb

Appendix A. Names on the Land and Waters

Map 6. Index of Landmark Names in Owl Ridge Trails Project area

Appendix B. Santiam Molalla Destinations and Foot-Trail Routes
Appendix C. Local Names for Plants Used by Santiam Molalla

Appendix D. GPS Photo Points and Santiam Molalla Land Use Rankings

Map 7. Index of GPS photo points in Owl Ridge Trails Project area

Appendix E. www.ORWW.org/Rivers/Santiam/South/Aerial_Photos/Headwaters
Appendix F. www.ORWW.org/Osbornes_Project
Appendix G. www.ORWW.org/Rivers/Santiam/South/Canyon_Creek