Townships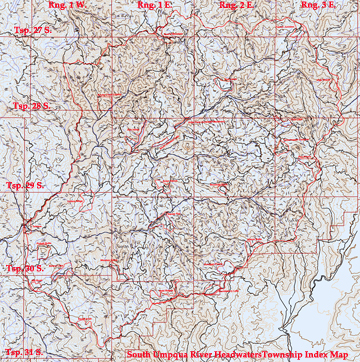 Douglas County, Oregon General Land Office Survey Notes
These 18 townships were compiled for the South Umpqua River basin and made available for research and education purposes in conjunction with the 2010 ORWW Upper South Umpqua Headwaters Precontact Reference Conditions Study. This research is made available, and this project made possible, with the cooperation and great assistance provided by the Douglas County Surveyors Office.
The original General Land Office land surveys data for these townships formed an important part of the information used and organized for thie 2010 study, including more than 18 township plat maps, 18 township index maps, more than 1300 pages of transcribed survey notes that describe about 3800 bearing trees and exacting locations of ten understory tree and shrub species, selected for their biological and cultural signficance. These plats and notes were created between 1857 and 1938 and transcribed into indexes, typewritten pages, and digital files sometime thereafter. Survey notes and plats are referenced by surveyor names, dates, and contract numbers.

© 2010, 2020 Oregon Websites & Watersheds Project, Inc. & NW Maps Co.