Elliott State Forest Educational Field Trips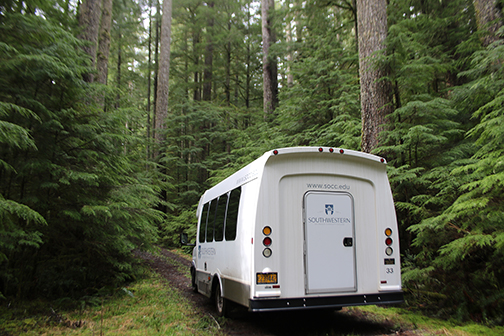 The Southwestern Oregon Community College (SWOCC) field trip van leaving Elliott State Forest's Silver Creek Heritage Grove on the way to Marlow Creek Road, April 17, 2018. Photograph by Anne Ferrell-Matthews, SWOCC staff photographer.
Here are the six field trips undertaken during spring term 2018 by the SWOCC Forest Recreation class for the purpose of helping to formulate an initial draft Recreation Plan for the Elliott State Forest. Field trips have been documented and put online for purposes of public education; for planned replication in future SWOCC Forest Recreation classes; for possible use in other SWOCC disciplines; and for potential uses in local Coos and Douglas County High Schools. The cornoavirus pandemic during Spring 2020 caused a "distance learning" format to be adopted for the SWOCC F 251 class:
"I'd been vaguely aware of the Forest's existence since attending Oregon State College, where it was described in college literature as an undeveloped State-owned forest of young timber lying between Coos and Umpqua Rivers, dedicated to educational purposes." (Jerry Phillips 1998: iii)
| | |
| --- | --- |
| | Elkhorn Ranch. The introductory Elkhorn Ranch field trip focused on the human and fire history of the Elliott Forest. Stops were made at Burnt Ridge, Trail Butte, Gould's Elkhorn Ranch, Silver Creek Heritage Grove, Indian Trail spring, and Boehner's WW I-era railroad logging camp on Marlow Creek. [2020 "Virtual" Field Trip] |
| | Millicoma Fish Hatchery. The Millicoma Fish Hatchery field trip focused on potentials for enhanced sports fisheries and commercial campgrounds on the West Fork Millicoma River, a primary drainage of the Elliott Forest. Students visited the Hatchery, participated in "fin clipping" young salmonids, observed wild fingerlings along the West Fork, and toured the adjacent Boy Scout campground. |
| | Deans Mountain. The Deans Mountain field trip focused on the history and evolution of transportation to and through the Elliott: from precontact canoe routes and foot trails, through pack trails, skid roads, lookouts, and logging roads, to modern highways. Discussion stops were made at the head of tidewater on Mill Creek, Indian Point, Cougar Pass Lookout, and Deans Mountain. [2020 "Virtual" Field Trip] |
| | Loon Lake. The Loon Lakes field trip focused on roadside signage (directional, historical, and interpretive); wildlife viewing; rest stop economics; birding; Umpqua River Scenic Highway vistas; Loon Lake BLM, ODF, and private campground developments; landownership and recreational opportunity differences; ethnobotany; and Huckleberry Point recreational use potentials. [2020 "Virtual" Field Trip] |
| | Tenmile Lakes. The Tenmile Lakes field trip focused on commercial recreational developments of lands adjacent to western Elliott Forest, east of Highway 101. Stops were made at Ringo's Lakeside Marina, Tenmile Lake County Park, 80-acres of ODF land above School Lands Bay, and Benson Ridge (4000) Road entrance to the Elliott. Discussion focused on integrating Elliott recreational opportunities with Lakeside's recreation-based businesses. [2020 "Virtual" Field Trip] |
| | Golden and Silver Falls. The Golden and Silver Falls field trip focused on recreational opportunities along the southern border of the Elliott, splash dams and fisheries, old-growth and fire history. Two County parks with camping sites, property ownership options, a State Myrtle Grove preserve, Allegany transportation history, Mahaffy Pumpkin Patch events, the Mahaffy Tree Farm, and hiking the Golden and Silver Falls trails were discussion points. [2020 "Virtual" Field Trip] |
| | History. Fire, family, and wildlife history of the Elliott, with a focus on the published works of Jerry Phillips, Aileen Rickard, Lionel Youst, and the accumulated written and photographic records of the George Gould-Hattie McClay family and descendants. |
| | Maps. These JPEG maps are selected from the reports, magazine and news articles, government records and other documents contained in this website. They show the Elliott in reference to the State of Oregon; in relation to the other State Forests; legal boundaries; streams; topography; subbasins; fire history; early historical Oregon Indian Tribes; roads and trails; marbled murrelet, spotted owl, and coho habitat; and tree ages. |
| | References. PDF files specific to the Elliott, its history and management, are organized into five thematic categories: 1) "Articles & Reports" include research papers, popular magazine articles, and reports with scientific, economic, or political topics; 2) "Agency Records" include state and federal agency reports, meeting notes, public comments, etc.; 3) "Historical Records" includes books, journals, maps, photos, and other historical documentation; 4) "Legal Records" include recent (past ten years) legal filings, judicial decisions, and commentary; 5) "News Reports" include newspaper articles, news blogs, website posts, editorials, and public letters. |
| | Wildlife. Native and exotic wildlife populations of the Elliott, including vertebrate and invertebrate aquatic and terrestrial animals historically and/or currently present in the Forest. |

© 2017-2020 Oregon Websites & Watersheds Project, Inc. & NW Maps Co.