2019 SWOCC Elliott State Forest Draft Recreation Plan
PART 1. Roads, Trails, and Sightseeing
By Kainoa Altier and Hunter Black-Priest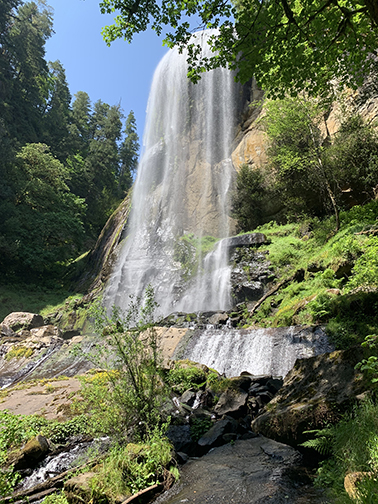 Fig. 1.1. View of Silver Falls, Golden and Silver Falls Field Trip, May 28, 2019. Photo by Kainoa Altier.
This chapter is based on chapter 1, "Forest Roads and Trails," by Tara Boyd, Matthew Smith, and Daniel Patton (Kronsberg, et al. 2018: 3-6), and Chapter 5, "Sightseeing and Aesthetics," by Patton, Boyd, and Smith (ibid: 15-20) in the 2018 Draft Elliott State Forest Recreation Plan.
PLEASE NOTE: The current road conditions in the Elliott allows travel for only some vehicles: trucks and 4-wheel drive vehicles are recommended. Most of the roads in the Elliott are narrow gravel roads with many potholes and thick overgrown brush on the sides of the roads. To navigate the Elliott's various roads, you would need a well detailed map due to the fact that there is no directional signage, making travel for the unseasoned visitor who is not familiar with the area very difficult. Awareness of these conditions and preparation for travel is essential for individuals looking to visit the Elliott. 
The Elliott State Forest consist of over 93,000 acres of land (Andrus, et al. 2003: 1-1) and approximately 550 miles of roads. Many of the roads and trails that are currently in the Elliott today are the same roads and trails that were used during the late 1800's to present day. Prior to the introduction of white settlers to this area, the ridgeline and riparian trails were used by local Indian families (Zybach and Ivy 2013). Once the white settlers discovered the area, they developed these trails into wagon roads for access to the area. The CCC better known as the Civilian Conservation Corps are responsible for the development of a majority of the roads and trails system used in the Elliott today during the 1930's (Phillips 1998: 19-111). More recently, the maintenance of these roads is credited to David Gould. Gould has been voluntarily using his own machinery along with rock and gravel donations from a local company to make repairs to the roads and ensure that access to the Elliott is possible.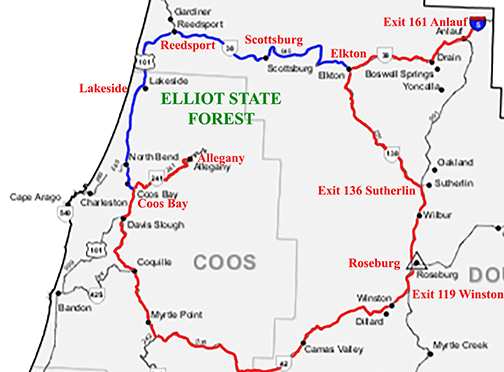 Map 1.1. Elliott Forest Regional Access Map (Oregon Department of Transportation 2017 base map).
| | | | |
| --- | --- | --- | --- |
| Beginning Point | Scottsburg | Lakeside | Allegany |
| I-5 Exit 161 Anlauf | 40 mi./45 min. | 68 mi./75 min. | 96 mi./2 hr. |
| I-5 Exit 119 Winston | 64 mi./70 min. | 93 mi./105 min. | 88 mi./105 min. |
| Hwy 101 Coos Bay | 44 mi./1 hr. | 17 mi./25 min. | 15 mi./25 min. |
| Hwy. 101 Reedsport | 16 mi./20 min. | 12 mi./20 min. | 40 mi./I hr. |
Table 1.1. Local Time and Distances to Elliott Access Points (Source: Google Maps).

Recommendations
When considering the current condition of the roads in the Elliot, the biggest problem it poses to visitors is the lack of directional signage and narrow rough roads. As of now, navigating the Elliott for the first time without a map would be near impossible. Improved safety along roads and trails is ideal if we want to improve recreational experience of visitors. Directional signage for navigating roads in the Elliott, as well as some informational signs near historical areas to educate visitors on the many historical areas in the Elliott, would be a great start. Funding for installation of these signs would be relatively cheap and require minor maintenance. Organizations such as Oregon Department of Transportation, Oregon Community Foundation Grants, and Coos County Road Department could be potential funding sources for signage.
The Oregon DOT Weighted Average Item Prices for 2018 calendar year showed that the prices for signs, as well as standard sheeting, sheet aluminum, for the sign material, had an average price of $16.61 per square foot. Another option could be standard sheeting with plywood, which has an average price of $13.71 per square foot. These are basic material cost, therefore estimated price per sign could be said to be between $50-300 due to installation and size. Being that as of right now there is no directional signage for navigating the main roads throughout the Elliott, a possible solution would be to place directional signs at the entrance point of each main road and at intersections in the forest. There are nine main entrances that provide road access to the Elliott: Elk Ridge 1000 Road (two entries), Dean Mountain 2000 Road (two entries), Larson Ridge 3000 Road, Benson Ridge 4000 Road, Scholfield Ridge 5000 Road, Charlotte Ridge 6000 Road, and Loon Lake County Road (Map 1.2). The estimated total cost for installing directional signage at each main road entrance and intersection would be between $1,500-4,000.
As we have previously discussed, the need for directional signage is urgent. The lack of directional signage is a safety concern as people could get lost attempting to navigate the roads, or break down or have an accident. Therefore, I suggest that the installation of these directional signage is started as soon as possible to ensure safety of those traveling through the Elliott.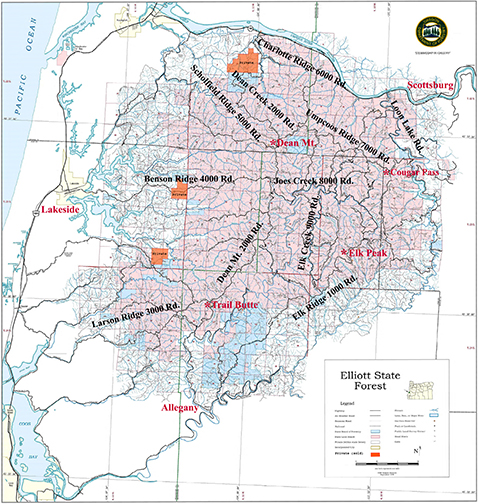 Map 1.2. Elliott Primary Road Network (Oregon Department of Forestry 1998 GIS base map).
We noted that of the 550 miles of roads in the Elliott, only approximately 150 miles of those roads are used for traveling to main destinations in the Elliott (Jerry Phillips, personal communication: June 3, 2019). An option for the maintenance of the roads in the Elliott would be to keep the main 150 miles of used road in good driving condition while using the remaining 400 miles of roads to be turned into trails for hiking, biking, or other recreational activities.
According to Kim McCarrel, Oregon Equestrian Trails (OET) Vice-President of Public Lands, and Valerie Lantz, a local Lakeside member of OET, there is support for the possibility of horse camps and trails that could be developed in the Elliott, providing full access to the forest (email correspondence, May 20-June 4, 2019 (Lantz et al. 2019)). The remaining 400 miles of roads could be used, at least in part, for these proposed horse trails. David Gould suggests that Elkhorn Ranch would be an excellent staging area for a horse camp (personal communication: June 4, 2019).
We estimated that any logging that might take place in the forest will be able to fund road repairs for that 150 miles of main roads, and without logging the annual cost to maintain the 150 miles of road in good driving condition for public access would be approximately $100,000 a year (Gould: personal communication, June 3, 2019).
Possible ideas for fixation of these roads has brought concerns to the public that could deter the development and improvement of the recreation access. Some concerns such as: who will be working on fixing these roads and continue to maintain them; who will fund the development of these roads; and will the maintenance of these roads cause too much traffic for local residents. With improved roads and directional signage, the Elliott could see an increase of recreational visitors which raises the concern to local residents of will this increase in visitors cause new daily traffic and overcrowding of a very secluded area.
Sightseeing and Aesthetics  
The Elliott State Forest has over 93,000 acres of beautiful scenery, abundant wildlife, and endless recreational activities such as hiking, fishing, off-roading, hunting, history education and more. Located northeast of Coos Bay, the Elliott is only about a 30-minute drive from downtown Coos Bay. There are various roads in the Elliott and many access points, but due to road condition and lack of directional signage, caution is advised when navigating these roads. Reviewing the map and preparing your vehicle for travel is recommended.
Visitor attractions within the Elliott include the historic Elkhorn Ranch, Jerry Phillips Reserve, West Fork Millicoma River, Dean Mountain, and Cougar Pass Lookout; immediately adjacent to the Forest are the Umpqua River, Loon Lake, Oregon Dunes, Pacific Ocean, Golden and Silver Falls State Park, Tenmile Lakes, and Coos Bay. There is also an abundance of available campgrounds, motels, and RV parks in close proximity.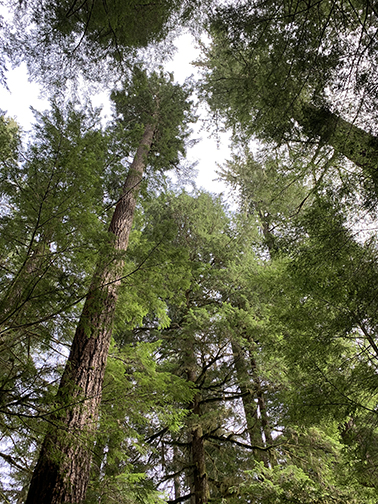 Fig. 1.6. Old-Growth Canopy at Jerry Philips Reserve. Photo by Kainoa Altier, April 23, 2019. 
Scenic Viewpoints
 
There are many high ridgelines in the Elliott where great scenic vistas can be found by logging a clear-cut (Fig. 1.5). In some locations, such as Deans Mountain, the Oregon Dunes and beaches can be seen on a sunny day (Fig. 1.4). A list of places providing scenic vistas include: Indian trails, elk trails, early pack trails, Columbus Day Storm roads, and Deans Mountain. 
In the Elliott you can find various creeks and rivers as well as a few waterfalls and lakes. Loon Lake is one of the popular lakes in the Elliott. It is located northeast of Coos Bay and provides visitors with recreation activities such as hiking, camping, boating, and sightseeing. Golden and Silver Falls is a popular location for hiking and sightseeing in the Elliott, located East of Coos Bay. The state park is home to two large waterfalls which provide great photography opportunities for visitors (Fig. 1.1).
Wildlife Viewing
BLM Dean Creek Elk Viewing area, located off of Highway 38, is a great spot to see some of the wildlife present here in the Elliott. This location provides viewing platforms along with informational signs about the local wildlife and history of wildlife in that area.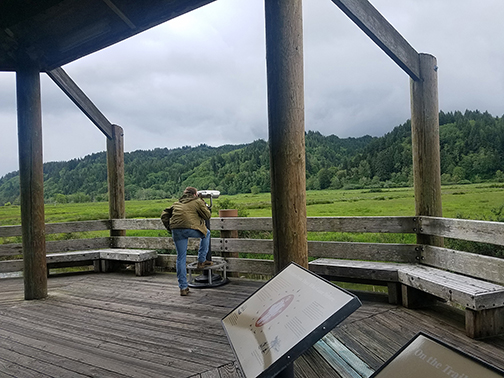 Fig. 1.7. Sebastian at BLM Elk Viewing Area, May 21, 2019. Photo by Hunter Black-Priest.
Summary Recommendations
1) Directional signage is strongly needed throughout the Elliott as soon as possible to avoid putting visitors at risk of getting lost or stranded in the forest.
2) An inventory of current roads should be conducted to determine which roads need to be worked on or retired to a trail rather than a full vehicle access road.
3) Develop a plan for next year to design horse camps and several horseback trails in the Elliott as a way to bring money to the Elliott via recreation opportunities.
4) Consider installing gates and charging access fees as a method of regulating traffic and developing income to help maintain roads and trails.

© 2017, 2019 Oregon Websites & Watersheds Project, Inc. & NW Maps Co.