Early Historical Roads and Trails of Ancestral Coquille Indian Lands, 1826 - 1875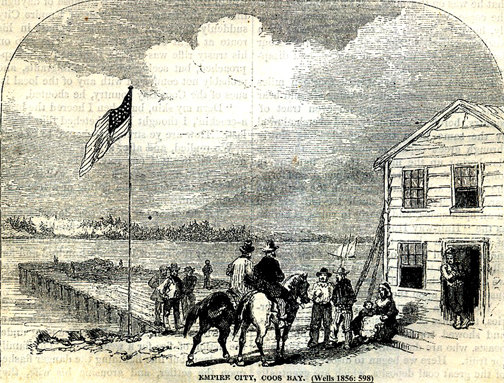 "Empire City, Coos Bay" (Wells 1856: 598).
By Bob Zybach & Don Ivy
January 4, 2013
When Alexander McLeod first entered the country of Coos and Coquille people in 1826, he had arrived in a land almost completely unknown to the outside world. There were no maps, written or verbal accounts, or even known landmarks -- excepting the seacoast -- for the entire region. There were no pack trails or wheeled vehicles in the Coos or Coquille river basins, and there never had been. Virtually all travel was accomplished by foot or by canoe. The typical line of demarcation between these modes of transport was the head of tidewater in the bay and along sloughs and tidal rivers and creeks.
Then, in June 1851, patterns of travel that had existed for millennia began to change abruptly with the arrival of an American ship at Battle Rock. By July 1856, nearly all native Coos and Coquille Indian families had died, been murdered, or moved to reservations, and their ancient foot trails replaced with pack trails, skid trails, and wagon roads.
This project focused on documenting and mapping the foot trail and canoe routes McLeod found in 1826 -- and on the changes in transportation methods and routes from 1851 - 1875. These changes culminated in the construction of the Coos Bay Military Wagon Road that connected Roseburg, in the Umpqua Valley along the South Road of the old Oregon Trail, to Coos Bay tidewater and seaports.
| | | |
| --- | --- | --- |
| | Volume I. Low resolution PDF file, including report cover, preface, table of contents, maps, photos: pages 1-91. | PDF_9.7_MB |
| | Volume II. Low resolution PDF file, including report cover, table of contents, report indices, historical transcriptions, timelines: pages 92-202. | PDF_8.2_MB |
Volume I: Trail Maps, Research Methods & Historical Accounts
| | | |
| --- | --- | --- |
| Part 1. Making the Trail Maps.html | 1. Project Setting, Description, Boundaries & Definitions.html | |
| | 2. Research Design: Traditional Methods & Modern Technology.html | |
| | 3. Research Products: Maps, Photos, Files, Databases, GIS & Website.html | |
| Part 2. Historical Accounts.html | 1. Alexander Roderick McLeod Expeditions: October 24, 1826 - February 4, 1827.html | |
| | 2. Jedediah Smith Expedition: June 30 - July 10, 1828.html | |
| | 3. T'Vault, Casey, Kautz & Evans Expeditions Eastward: June 1851 – July 1856.html | |
| | 4. The Randolph Trail & Seven Devils: May 1853 - August 1856.html | |
| | 5. The Coose Bay Commercial Company: May 1853 - 1875.html | |
| | 6. The Coos Bay Military Wagon Road: 1869 - 1875.html | |
| Part 3. Annotated Bibliography.html | 1. Principal Historians: Carey, McArthur, Victor & Walling.html | |
| | 2. Regional Historians: Beckham, Dodge, Douthit, Peterson & Powers.html | |
| | 3. Local Historians: Atwood, Mahaffey, Rickard, Smyth, Wooldridge & Youst.html | |
| | 4. Topical Historians: Beckham, Cram, Drew, Glisan & Lansing.html | |
| | 5. Academicians: Byram, Hall, Losey, Schwarz, Tveskov & Wasson.html | |
| | References.html | |
Volume II: Journal Entries, Surveyor Notes, Indices & References
| | | |
| --- | --- | --- |
| Part 1. Journals & Correspondence.html | 1. Alexander McLeod Journal Excerpts, October 26, 1826 – February 5, 1827.html | |
| | 2. Jedediah Smith & Harrison Rodgers Journal Entries, June 29 – July 10, 1828.html | |
| | 3. Lt. Col. Silas Casey Correspondence, October 24 - December 14, 1851.html | |
| Part 2. Project Indices.html | 1. Index map of study area counties, USGS quadrangles, and GLO subdivisions | |
| | 2. Geographical table of study area USGS quadrangle maps | |
| | 3. Geographical table of study area GLO subdivision maps, 1856 - 1934 | |
| | 4. Geographical table of historical road and trail surveys, 1856 - 1934 | |
| | 5. Alphabetical table of study area USGS place names, 1800 - 1900 | |
| | 6. Alphabetical table of study area historical trail names, 1851 - 1934 | |
| | 7. Reference listing of General Land Office Surveyors, 1856 - 1934 | |
| Part 3. Chronological Timelines.html | 1. Chronological table of historical events, with references & locations, 1826 - 1875 | |
| | 2. Timeline of historical event and trail survey locations, 1851 - 1876 | |
| References (Vols. I & II).html | | |