Acknowledgements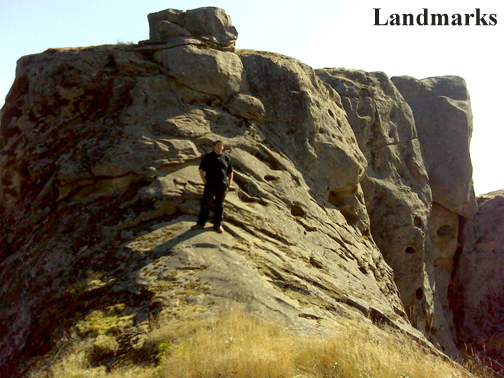 Jesse Davis, Coquille Tribe project field research assistant, at what we now believe to be "Eagle Rock," on the headwater divides of Williams River and Lookingglass Creek. This location, along the top of a shear rock wall that stetches for several miles, has an amazing view (on a clear day) of Flournoy Valley, the Umpqua River basin, and the western Cascades to the East; and the headwater basins of the Coos and Coquille rivers to the West. Slide #33 of 36 total in the 2012 Coquelle Trails Powerpoint presentation. October 27, 2011, georeferenced photograph by B. Zybach.
* * * * * * *
This report and website represent the successful completion of an interesting and important research project, achieved with combined effort, cooperation, and common interest by the Coquille Indian Tribe, Inc., Oregon Websites and Watersheds Project, Inc., and NW Maps Co. Individual contributors to the Coquelle Trails Project were:
Coquille Tribal Council: Chairman Edward Metcalf; Vice-Chair Brenda Meade; Chief Ken Tanner; Secretary Joan Metcalf; and Representatives Toni Ann Brend, Sharon Parrish, and Kippy Robbins.
Oregon Websites and Watersheds Project, Inc. Board of Directors: Jeanne Gay, Secretary; Wayne Giesy; Stewart Hemphill, President; James Holt; Sue Miller, Vice-President.
Coquille Indian Tribal Staff: Robin Harkins, GIS Coordinator; Jesse Davis, Cultural Resources Intern; and Nicole Norris, Archaeologist.
Crys Stephens, Research Assistant, NW Maps Co.
Lynae Queen, Survey Office Manager, Coos County Surveyors Office.
Terrie Franssen, GIS Team, Douglas County Surveyors Office.
Joe Hallett, Cultural Resources Technician, Powers Ranger District, US Forest Service (Retired).
Al Alexander, Land Use Manager, Coos Bay Operations, Weyerhaeuser Company.
H. Lee Dixon, Colonel, US Air Force (Retired).
Jerry Floyd, County Surveyor, Curry County Surveyors Office.
Doug Borgard, Publisher, White Cedar Press, Powers, Oregon.
Nan MacDonald, Native American Basket Weaver, Powers Oregon; and Rick "Mac" MacDonald, Senior Fire Management Officer, Powers Ranger District, US Forest Service.