The Watchman Lookout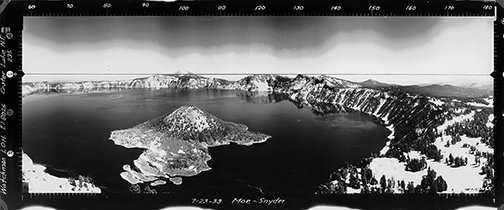 Crater Lake, Watchman Lookout, Klamath County (Moe & Snyder, July 23, 1933).
The Watchman Lookout was first used in 1916 at Tsp. 30 S., Rng. 5 E., Sec. 28, elevation 8,025 feet. Major construction was completed in 1932 to develop The Watchman into a combination Lookout Tower and Museum. This viewpoint is triangulated with Mount Bailey Lookout (Northwest 15 miles) and Mount Thielsen Lookout (15.5 miles Northeast) in Douglas County. Kemnow Online History.

Map of Crater Lake National Park in Klamath County, showing The Watchman Lookout in relation to Crater Lake.

© 2006-2020, Oregon Websites and Watersheds Project, Inc. & NW Maps Co.