Southwest Oregon History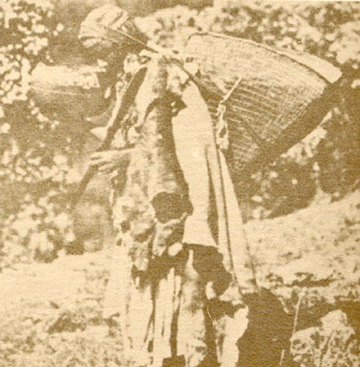 Southwest Oregon Indian woman with burden basket, ca. 1860 (LaLande 1980: 123)
The following materials were largely assembled during the course of research for a 2007 report commissioned by Oregon State University College of Forestry Forest Sciences Department and USDI Bureau of Land Management with NW Maps Co. (Zybach 2007). They have been made available to the general public via a 2008 contractual agreement between USDA Forest Service Pacific Northwest Research Station and Oregon Websites and Watersheds Project, Inc., and under separate informal agreement with NW Maps Co. These files are intended for the use of students, teachers, researchers, and general public with an interest in the history and management of southwest Oregon's natural and cultural resources. Additions and corrections to this site are planned as better information is made available.
1855-1882 GLO Tree Species and Diameter Classes
1884 Historical Landscape Patterns (Walling 1884)
1884-2007 Historical Maps and Survey Notes
1899 Forestry Report (Leiberg 1900)
1936-1937 Chetco Basin Landscape Patterns (Osborne panoramic photographs)
References [Online] & [PDF_2007]
Figures
© 2007 NW Maps Co & 2008 Oregon Websites and Watersheds Project, Inc.