2019 SWOCC Elliott State Forest Draft Recreation Plan
PART 2. Local Forest Recreation Opportunities
By Hunter Black-Priest, Koby Etzwiler, and Kainoa Altier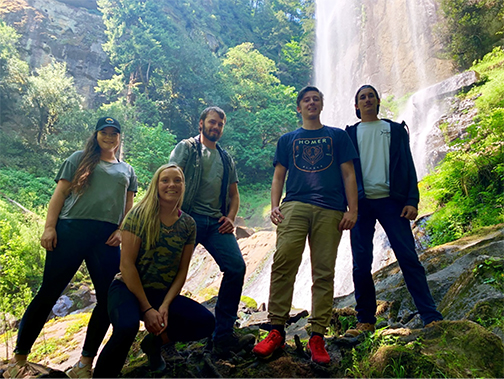 Fig. 2.1. Students standing in front of Silver Falls, Golden and Silver Falls Field Trip, May 28, 2019. Photo by Anne Farrell-Matthews.
This chapter is based on Chapter 2, "Local Forest Recreation Opportunities," by Amy Kronsberg, Scott Guthrie and Maggie Boone (Kronsberg, et al. 2018: 7-9) and Chapter 3, "Camping," by Boone, Kronsberg, and Guthrie (ibid.: 10-11) in the 2018 Draft Elliott State Forest Recreation Plan.
The Elliott State Forest must create more revenue for the School Trust Fund. One way to do this is increasing profitable recreation within the forest, by getting people involved and excited about the area. Getting people excited about the forest could start with the addition of new recreation activities and have them promoted with social media.
Current Recreation Opportunities
The current recreation opportunities in this section are summarized from Kronsberg, et al. 2018. There are many recreation opportunities near and inside the Elliott State Forest. These include the Loon Lake Recreational Site on the eastern border, Golden and Silver Falls, and Mahaffy Ranch to the south. To the north is the Umpqua River and to the west there is the small town of Lakeside that is home to the Tenmile Lakes. More about the current recreation opportunities in and around the Elliott State Forest can be found in Kronsberg, et al. (Kronsberg, et al. 2018: 7-8).
Future Recreation Opportunities
There is plenty of potential for the Elliott State Forest to gain revenue for the School Trust Fund. To accomplish this, the amount of profitable features and activities in and around the Elliott would need to be increased. Some possibilities to increase revenue include maps, camping, and social events. Each of these three aspects of recreation can be enhanced in different ways to gain profit for the School Trust Fund.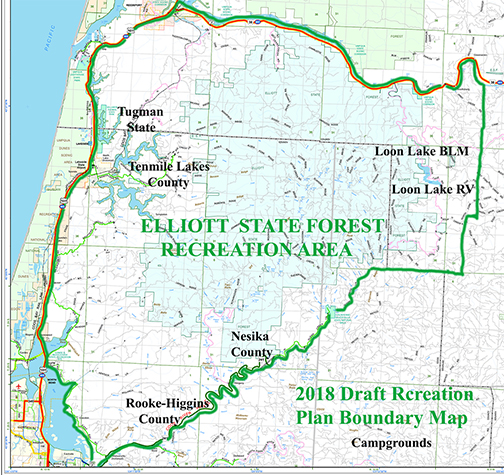 Map 2.1 Elliott State Forest Recreation Area: Boundaries and Campgrounds (Kronsberg, et al. 2018: 9).
Maps have the capability to generate profit for a small cost. Creating a small detailed map, including historical points, campsites, and scenic areas can help people navigate in the Elliott and encourage more people to visit recreation areas in the Elliott. More information about how maps can gain profits can be viewed from Kronsberg, et al. (Kronsberg et al. 2018:7-8).
Camping
Having campsites throughout the Elliott and incorporating the forest into the campgrounds will create a family-friendly environment. Creating new campsites near scenic areas will increase the number of people visiting the area, and in turn it will create the opportunity to increase profits for the Elliott. Providing people with options for camping around or in the Elliott will make access to the forest easier.
The camp sites throughout the Elliott need a lot of updating for better camping experiences. One way to update camp sites would be to make fire pits out of cement. Making cement fire pits can keep the fires from getting too big and helps prevent wildfires. According to the Riley Ranch caretakers, cement fire pits also saves a bunch of money in the long run as opposed to using metal fire pits (Kronsberg et al. 2018: 10-11).
Campground

Owners

Facilities

Sites

Cost

Open

BLM Loon Lake Recreation Area

Federal

Flush toilets

61 Tents / 43 RVs

$18-$36 per night

Closed 2019

Loon Lake Lodge and RV Resort

Private

Full RV hookups

20 Tent/RV sites, Cabins

$45-$65 per night

April 15- October 31

William M. Tugman

State

Toilets, water, RV dump

93 Electrical/ 16 yurts

Year round

Tenmile Lake Campground

County

Electricity, RV dump, showers

45 RV sites

$3/ day
$25/night

Year Round

Rooke-Higgins

County

Vault toilet

26 Tent Sites

No cost

Year Round

Nesika

County

Vault toilet

20 Tent Sites

No cost

Year Round
Table 2.1 Elliott Forest Recreation Area Campgrounds: Seasons and Facilities.
BLM: US Department of the Interior Bureau of Land Management
Events
Holding social events in certain areas of the Elliott is a great way to gain revenue. Different events and social gatherings could include children's camps, outdoor school, remote control cars (RC cars), dirt bike races, weddings and other social gatherings.
The scout camp could incorporate children's camps and outdoor school in the Elliott. Setting up a contract with an elementary school would be the first step. The students would participate in educational activities about our environment and would help engage their young minds. Monetary gains from this would come from the school district and/or the parents that pay for it themselves. If you have a class of 20 students and you provide them with lunches, $40 a head would add up to $800. If you spend $10 a head on lunches the cost would be $200, and you would still have $500 to work with.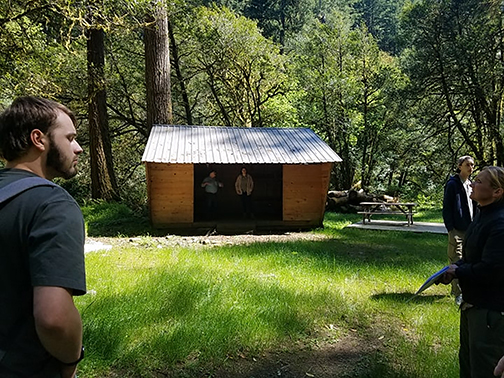 Fig. 2.2 Boy Scout Camp Chinook discussions, April 30, 2019. Photo by Hunter Black-Priest.
Creating new ways to gain profit in the Elliott will be the foundation for making the forest a sustainable source of revenue for the School Trust Fund. For example, designing a dirt bike track while incorporating the natural elements of the forest would be a great attraction for people around the area. The Elliott has a ton of potential to incorporate a track and campsites for people that are into racing. According to a personal communication by John Priest, an equipment operator for Foglio Trucking, hiring a crew of 2-3 laborers should complete the track within 1-3 days. The equipment needed would be a dump truck, bulldozer and excavator. The average cost for a dump truck per hour would be $100, a bulldozer is $150, and an excavator is $200. Also, the cost of labor would be 50-75 dollars per hour.
Creating bike trails for mountain bikers and BMX riders throughout the Elliott is also a way to get more people excited about the area. Around here there is no such thing as a BMX track or mountain biking trails, if we incorporate these aspects to the Elliott it will help gain a wider variety of recreationalists. In addition, holding events such as a "5k walk/run", "Color Me Fun Run" or events such as the "Dirty Dash" throughout the forest would attract many people. Advertising the events on social media and promoting the Elliott would help gain profits. Having events such as these will attract people due to the incorporation of the forest experience. On-site registration for a walk/run event could be $30.00 or more depending on the event.
Recommendations
By creating new ways to gain profit in the Elliott, the forest could become a sustainable source of revenue for the School Trust Fund. Refurnishing current campsites by creating cement fire pits is a way to update the campsites and the safety of the area and people visiting the site. Creating new campsites throughout the Elliott would enhance the camping experience. Certain areas around recreation sites could be turned into a campground. Instead of having them very close together, such as Loon Lake, they could be more spread out for diverse camping experiences. There can also be the introduction to camp hosts in those areas to help keep track of how many people are camping in certain areas as well as making sure that the people using the site are comfortable and following the rules. There should also be rules posted in every site as well as pamphlets that contain information about the recreation activities and history of the Elliott, to hand out to guests.
Contacting the landowner to develop a plan for outdoor school and children's camps at the Chinook Camp should be prioritized because that area has high potential for revenue.
Also, designing and implementing a dirt bike track while incorporating the natural elements of the forest would be a great attraction for people around the area.
Contact landowner to create a plan and get permits for holding events such as the "5k walk/run."
Creating social media for the Elliott State Forest is a great way to promote activities within the Elliott at a low cost.
Organizing fundraisers to help support and generate money to put towards the creation of these events will help pay for the process. Also, instead of buying all materials, ask companies to donate the materials for certain projects. Most local companies will support and donate materials if the organization benefits from the project.
Creating a plan to incorporate internships for students to help maintain the recreation areas within the forest will provide low cost labor and interest in the forest for future generations.

© 2017, 2019 Oregon Websites & Watersheds Project, Inc. & NW Maps Co.