Curry County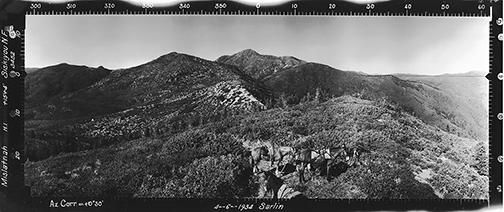 North View, Mislatnah Peak Lookout, Curry County (Sarlin, April 6, 1934).
There are currently only three sets of Osbornes available for Curry County. These were first put online in 2006 on the NW Maps Co. website, along with two sets of Josephine County Osbornes. These five lookouts comprised a significant viewpoint, from 1933 to 1937, of the subsequent Kalmiopsis Wilderness, 1987 Silver Complex, 2002 Biscuit, and 2017 Chetco Bar Fire landscapes. A primary objective of this project, completed in collaboration with ORWW, was to develop each set of Osbornes into a QTVR file in order to visit the 1930s Chetco River basin terrain in controlled video, with the ability to zoom in on individual features: a virtual and highly accurate time machine controlled by the operator. QTVR was soon replaced with rapidly improving digital video, computer memories, and Internet speed; the technology was abandoned in a few years and the software is no longer functional. The original 2006 Kalmiopsis Wilderness Osbornes website still retains links to the outdated QTVR files, and the quality of the 2020 ORWW Osborne JPEG images is much improved.
NOTE (December 15, 2010): There has been some difficulty with QTVR panoramic files made for this project, in that some browsers or platforms are importing grainy, undersized files that cannot be expanded to fit the screen. This has not been a problem in the past, and we are working to fix the problem at this time.

2006 NW Maps Co. Fire Lookout Index Map for Kalmiopsis Wilderness Osbornes/QTVR Project. The Wilderness boundary spans Curry and Josephine Counties.
© 2006-2020, Oregon Websites and Watersheds Project, Inc. & NW Maps Co.