COLOR VARIATIONS IN NATIVE CAMAS FLOWERS ALONG THE WESTERN OREGON I-5 CORRIDOR, MAY 11, 2015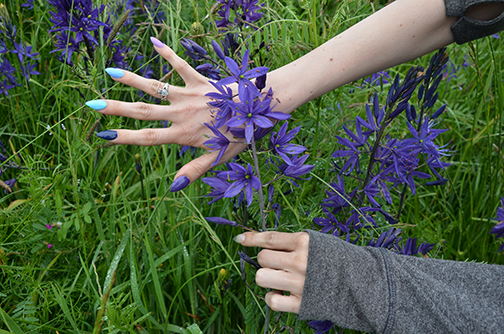 Brownsville "Deep Purple" camas, along I-5 Highway in Linn County, Oregon, May 11, 2015. Hands and "camas color chart" nails by McKenzie Peters, photograph by Bob Zybach. Five basic color gradiants used to measure camas were purple (thumb); dark blue (index finger); turquoise (middle finger); light blue (ring finger); and lavender (little finger). Natural skin tones were used to gauge differences in white and cream colored blossoms.
Report By Bob Zybach, PhD.
Program Manager, www.ORWW.org.
May 14, 2015
For the past 20+ years I have noticed and remarked upon the significant localized changes in camas flower coloration as one travels along the I-5 corridor between Washington and California. From the south near Grants Pass the blossoms are purple; in Upper Cow Creek Valley they are lavender; turning white and then mixed colors along the South Umpqua; to cream colored along the North Umpqua; lavender from Yoncalla to Cottage Grove; purple from Saginaw to Glenwood, and then deep purple for more than 20 miles, concentrated between the Junction City 209 and Corvallis 228 Exits. For many of those years my intention had been to actually document the locations and variations in color along this transect, but time, opportunity, blossoming sequence, weather, and resources never seemed to adequately coincide -- until this spring. On Monday, May 11 of this week I took a very pleasant 350+ mile round-trip tour of the western Oregon I-5 corridor, while most of the camas were still in bloom, with long-time friends and neighbors (and occasional contract employees) McKenzie Peters and Brandon Hanner.
Although I was familiar with several of the locations when we first set out from Cottage Grove heading south during the day, I wasn't certain of their blooming status at that time. There were still several pleasant suprises and unexpected successes -- and perhaps mostly that plants were still in bloom along the entire travel route. Top moments were the finding of the mysterious 1994 "mixed colors" camas patch "5 miles south of Roseburg," the finding of a few remaining lavender and purple camas plants still in bloom in Hugo, the patch of white camas "at the 15 mile post marker" near Days Creek, and the discovery of mixed blue camas in the North Umpqua cream-colored camas fields. The purpose in assigning colors and locational data -- including names -- to the different varieties of camas is to better test the idea as to whether there are strong cultural and historical ties between the apparent varieties of camas and the early historical Indian populations who most used them. In addition to documenting color, height, location, etc., of the different remnant varieties -- as demonstrated below -- I would like to eventually expand the study to include genetic analysis, nutritional values, recipes, growth rates and market potentials for many of Oregon's native food varities, including camas.
Our principal purpose in doing this project was to to help develop some consistency in naming native plant varieities and their colors and to recognize and document key differences and locations of the separate varieties of remaining native camas populations. A more detailed focus is to consider the plants' existence and current extent in terms of its early historical range and cultural uses. McKenzie provided sharp eyes, a human scale and professional color chart for this project. Brandon took detailed field notes and recorded locations and documentary methodology with a Garmin 550-t Oregon GPS receiver/camera. His photographs are those in Table 2 with a 2400 prefix. I used a Nikon Model D700 SLR camera with a Nikon GP-1 GPS receiver and a Nikon 18-105 mm. zoom lens to record size and coloration of the camas blossoms. Weather was excellent for photographing subtle colors, which is to say that the entire day was overcast with occasional rain showers -- no shiny bright spots or shifting deep shadows. All of the photos have been resized for Internet display, but that is the only PhotoShopping that has taken place -- no cropping, coloring, adjusting, etc., in any other way.
Photograph Tables
This project resulted in 63 digital photographs documenting: 1) a dozen separate native camas field and patch remnants; 2) containing as many as 16 or 20 different camas varieties; 3) five principal camas bloom color gradiants; and 4) their exact locations along the I-5 corridor from Hugo Exit 66 to Corvallis Exit 228.
Table 1. W. Oregon Camas Color Variations. This table documents variations of the five basic camas blossom colors we were able to differentiate: 1) white; 2) cream; 3) blue; 4) lavender and 5) purple.
Table 2. W. Oregon Camas Variety Locations. This table documents the 12 different locations we visited, our methods of recording the size, species,structure and general extent of individual plants and of each camas stand, and the final complete photo documentation series. Photos are arranged from south to north, rather than in the order they were taken. Maps of photograph locations will eventually be constructed from gathered GPS data.
Related ORWW Links:
2004 Ashland Camas Bake: www.orww.org/Bald_Hill_2004/Native_Plants_Tour/Ashland_Camas_Bake
2007 Owl Ridge Trails Report: www.orww.org/Reports/Owl_Ridge_Trails
2008 Gordon Meadows Restoration Plan: www.orww.org/Reports/Gordon_Meadows
Table 1. Five Color Gradiant Chart for I-5 Corridor Camas Blossoms in Western Oregon between Mileposts 66 (Hugo Exit) and 228 (Corvallis Exit), Spring 2015. Photos by Bob Zybach.
| | | | | |
| --- | --- | --- | --- | --- |
| WHITE | | | | |
| | | | | |
| CREAM | | | | |
| | | | | |
| BLUE | | | | |
| | | | | |
| LAVENDER | | | | |
| | | | | |
| PURPLE | | | | |
| | | | | |
Table 2. Photograph and GPS Documentation of 12 Historical Western Oregon Camas Fields and Patches Along the I-5 Corridor between Mileposts 66 (Hugo Exit) and 228 (Corvallis Exit), May 11, 2015. Photographs by Bob Zybach and Brendon Hanner.