B & B Complex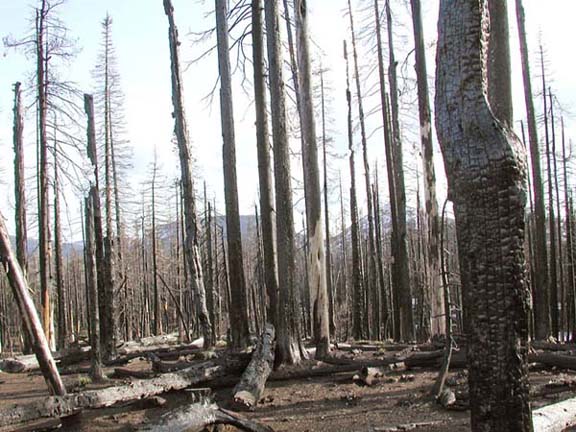 Pacific Crest ("Skyline") Trail, Central Oregon Cascades, USA (May 14, 2004)
This website was created by Bob Zybach and Nana Lapham for Oregon Websites and Watersheds Project, Inc. (ORWW) in March, 2004, as an online educational tool for students, teachers, researchers, resource managers, and others with an interest in Oregon's natural and cultural resources. Several organizations and agencies have also provided assistance to this project, adding significant resources and additional opportunities for long-term collaboration.
The B&B Complex is a 95,000 acre area of forested land that burned along the crest of the Cascade Mountain Range between Mount Jefferson and Mount Washington during August and September, 2003 (see Map). The burn straddles Highway 20 as it crosses from Linn County to Jefferson County; from the Douglas-fir and western hemlock forests of western Oregon to the yellow pine and jack pine forests of eastern Oregon.
This website report is designed to provide comprehensive data regarding the fires, their fuel history, and the fires' aftermath; to encourage discussion and thought; and to provide opportunities to participate in the management of public resources within the fires' range. This report is intended to eventually include interactive features for discussion, peer review, and public responses. Please contact the report's authors if you have information of interest, corrections, or suggestions for improvement.
| | |
| --- | --- |
| | Forest and Fire History: Geology, Climate, & Culture |
| | Policy and Management Issues |
| | Wildlife Habitat: Plants, Animals, Pests, & Pathogens |
| | Air, Soil, and Water |
| | Repeat Photography Grid Project |
| | Maps and GIS |
| | References |
Current Notes
September 15, Field Trip: On September 15, 2004, Bill Hagenstein and a select group of scientists, forest industry representatives, and media professionals took part in a tour of the B&B Complex area. Mr. Hagenstein is the first in a series of individuals that have agreed to be profiled for the new "Key People" feature of our website. These people will represent important viewpoints regarding the management of B&B Complex issues.
August 18, 2004 Walden Subcommittee Hearing: On August 18, 2004, Congressman Greg Walden (R/OR) conducted an HFRA congressional subcommittee field meeting in Sisters, Oregon to discuss the aftermath of catastrophic forest fires. The meeting featured three panels of experts on the topic of the B&B Fire Complex and was open to the public. Written testimony was accepted until September 1, 2004.
July 20, 2004 NEPA Scoping Letter: On July 20, 2004, Bill Anthony, District Ranger of the Sisters Ranger District, initiated the NEPA Enivronmental Impact Statement (EIS) process with the formal release of a Public Scoping Letter and Proposed Action Summary for The B&B Fire Recovery Project. On August 14th and 18th, 2004 the Sister's RD hosted two tours of the B&B as part of the public outreach process to adress issues raised in the scoping letter. Public comments on the proposal were accepted until August 20, 2004.
*******************************
Funding and other resources for this project have been provided by the Ralph Hull Foundation, Inc., Starker Forests, Inc., NW Maps Co., Oregon State University (OSU) Department of Forest Science, OSU Ethnic Studies Program, Pacific Northwest Research Station, Detroit Ranger District of the Willamette National Forest, the Deschutes National Forest, and the Sisters Ranger District of the Deschutes National Forest.
©2004 Oregon Websites and Watersheds Project, Inc. and NW Maps Co.