Link Creek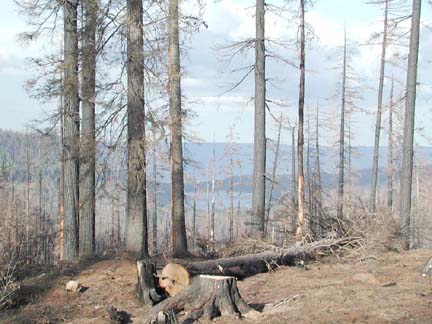 View of Suttle Lake from Link Creek headlands, May 13, 2004.
Link Creek is a principal tributary to Blue Lake and Suttle Lake, adjacent to the southern boundary of Highway 20. When traveling from the Willamette Valley to Sisters, Highway 20 enters the Link Creek subbasin to the east of Hoodoo Butte and can be viewed via and extensive rocked road and trail network that can be entered at the Corbett Sno-Park parking lot.
On September 15, 2004, members of the ORWW board were joined by forestry expert Bill Hagenstein for a field trip to the B&B Complex burn. This tour included stops at Round Lake and Link Creek. The Round Lake section of ORWW may be found here, and includes numerous photographs and QTVRs.
Link Creek has a diversified ownership, and the B&B Fires responded in different ways to differing land management patterns. Tree plantations, clearcuts, commercial thins, and partially-killed thickets are interspersed with Forest Service lands characterized by thousands of contiguous acres of snags.
The revegetation of Link Creek, from ground burned clean in September, 2003 to bracken fern, grasses, shrubs, and widlflowers in October, 2004, is documented on the "Rocky Outlook" webpage.
In the table below, you will find photographs and interactive QTVR files of Round Lake. Click here
for more information about viewing QTVR (.mov) files.

©2004 Oregon Websites and Watersheds Project, Inc. and NW Maps Co.