2019 SWOCC Elliott State Forest Draft Recreation Plan
PART 4. Fish Habitat, Hatcheries, and Recreational Access
By Gabriella Jones, Amelia Harvey, and Kelsey Morrison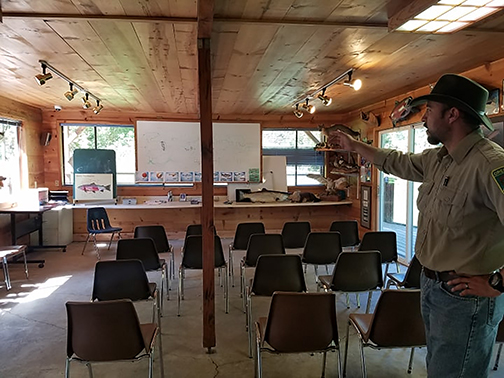 Fig. 4.1. Antonio Salgado Describes Millicoma Hatchery Classroom Use. Photo by Hunter Black-Priest, April 30, 2019.
This chapter is based on chapter seven "Fish Hatcheries" by Matthew Hofenbredl, Abby Richards, and Cody Harkins (Kronsberg, et al. 2018: 24-27), and chapter eight "Fish Habitat and Recreational Fishing Access" by Max Richcreek, Cole Smith, and Carter Carr (ibid.: 28-30) in the 2018 Draft Elliott State Forest Recreation Plan.
The Elliott State Forest contains the West Fork of the Millicoma River and thirteen subbasins (see Map 4.1), most of which are open for recreational fishing of Coho Salmon, Steelhead, and Trout (Kronsberg, et al. 2018: 25).
Logs, boulders, and natural debris has been removed from spawning grounds in the streams and rivers to encourage the flow of water. Previously diverted streams had been set back to their natural course by adding (1) logs for habitat and gravel for spawning in Joe's Creek, (2) willow trees to stabilize the bank and slow sediment flow on Big Creek, and (3) fish ladders for access on Elk Creek (Kronsberg, et al. 2018: 25).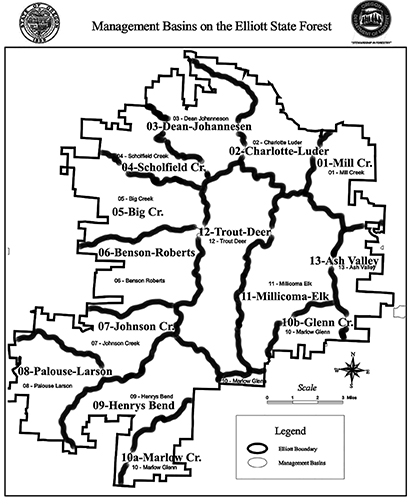 Map 4.1. Elliott State Forest 13 ODF Planning Subbasins (Decker, et al. 2011: xix).
| | | | | | | | | | | | | |
| --- | --- | --- | --- | --- | --- | --- | --- | --- | --- | --- | --- | --- |
| Species | J | F | M | A | M | J | J | A | S | O | N | D |
| Winter Steelhead | | x | x | | | | | | | | | |
| Rainbow Trout | | | x | x | x | x | | | | | | |
| Cutthroat Trout | | | x | x | x | | | | | | | |
| Yellow Perch | | | x | x | x | x | x | x | x | x | x | |
| Largemouth Bass | | | x | x | x | x | x | x | x | x | | |
| Catfish | | | | x | x | x | | | | | | |
| Coho Salmon | | | | | | | | | | x | x | x |
Table 4.1 Oregon Fishing Seasons for Elliott Area Fish (ODFW 2019b: 12-21).
Fish hatcheries, where artificial breeding, hatching, and rearing occurs, are used to encourage the recreational activity of fishing in the Elliot. The Millicoma Hatchery provides Chinook to the river. Fisherman with proper tags and licenses may fish year long with salmon in the winter and spring, steelhead in the winter, and trout in the spring and summer.
Current Use in the Elliott
Most people go to the West Fork Millicoma Hatchery to fish (Antonia Salgado, personal communication, April 15, 2018). Additional rivers and streams are much more remote and difficult to get to. Although some fishing does occur within the forest, the rivers and streams mainly contain native fish which cannot be kept. According to Hofenbredl, et al., during the winter, steelhead attract nearly 50 people at a time. In the following seasons, only about four to five people a week can be found fishing in the river. There is a pond behind the Millicoma Hatchery that parents can bring their kids to for easier fishing that is stocked with fish year round and can be used for sightseeing as well as educating elementary school kids about the various types of fish, the fish hatchery itself, and how hatcheries can be beneficial for both the Elliott State Forest and the ecosystem (Kronsberg, et al. 2018: 24-27).
Barriers to Accessibility
Although the Millicoma Hatchery is the most established and popular fishing spot within the Elliott, an annual fishing tournament occurs on Ten Mile Lake brings nearly several hundred people to the Elliott each year (Amelia Harvey, personal communication, June 4, 2019). There are many different barriers that make it hard for people to access. Roads, which can be steep in some places and are uneven in others, are difficult to drive on. Another barrier is the lack of posted signs to assist in guiding people to theMillicoma Hatchery and to warn people of what areas they are allowed to fish and what areas they cannot.
Recommendations for Improvement
The state should continue to improve fish habitats within the Elliott to help establish fish populations. With regards to fishing access, the state should encourage recreational fishing at the Millicoma Hatchery/Boy Scout Camp since there is little that can be done to improve the accessibility of other fishing spots within the Elliott. Some recommendations to help improve the development and use of the recreation area in the Elliott State Forest is to put up directional signs to assist in guiding people to the Millicoma Hatchery.  If we can eliminate the problems outlined above, more people would be able to make their way to the Millicoma Hatchery and be able to enjoy their experience fishing in the Elliott.
Funding
Because federal and state agencies encourage fish habitat restoration, there are many grant opportunities that will assist with funding. A controversial topic regarding funding is issuing a "Fishing Pass." Contrary to previous recommendations, I recommend that issuing a small fee of $5 per person would be a reasonable price to pay for a day's worth of fishing access within the Elliott. Although the fee would not generate a substantial income, the small profit would be enough to assist in the upkeep of popular fishing spots.

© 2017, 2018 Oregon Websites & Watersheds Project, Inc. & NW Maps Co.