Wildfires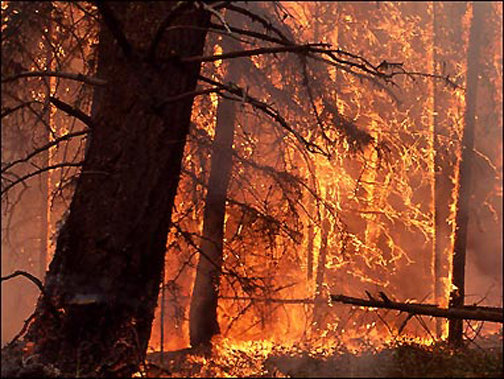 (Help! This great image was downloaded from the Internet, but without any details. Can anyone please identify the source and location of this photo so it can be properly credited? If it is not from Oregon, can someone supply a similar image that we can use as a replacement? If you can help on this, please contact us via the email "Contact" link on the ORWW Homepage. Thanks!)
This ORWW website project was undertaken in January, 2016 with funding provided by Starker Forests, Inc., and resources provided by NW Maps Co. The purpose of this website is to
This website was created by Bob Zybach and Josh Meredith in December, 2005 to serve as an index to data Oregon Websites and Watersheds Project, Inc. has been gathering on the B&B Complex, Biscuit, and Deer Creek Fires of western Oregon. Sponsorship and funding for this website has been provided by US Forest Service Pacific Northwest Research Station, Starker Forests, Inc., Wilma Hull, Hull-Oakes Lumber Co., and NW Maps Co.
Data on the historic "Great Fires" of western Oregon was assembled by Bob Zybach during the course of his PhD. research at Oregon State University. It currently exists only in draft form, and is housed at the NW Maps Co. website at this time. Current plans are to update information and references current and to eventually transfer files to ORWW.org for better public access. The finished dissertation can be found in book format at Valley Library, OSU campus, in Corvallis, Oregon.
| | |
| --- | --- |
| | Historic "Great Fires" (1770-1951). These fires were the largest in Oregon history and all took place on the Oregon Coast Range. They have been individually named the Coos, Millicoma, Nestucca, Tillamook, and Yaquina Fires. |
| | 2002 Biscuit Fires. Largest wildfire complex (500,000 acres) in Oregon history. Reburned entire area of 1987 Silver Complex, which was previously the largest wildfire in southwest Oregon history. |
| | 2004 B&B Complex. Largest wildfire complex (90,000 acres) in the history of the Oregon Cascades. Complex can be said to include temporal patterns of adjacent 2000-2007 wildfires in the Metolius and McKenzie river basins, totaling 125,000+ acres. |
| | 2005 Deer Creek Fire. Largest Oregon wildfire of 2005. Burned about 2000 acres and destroyed several homes before containment by firefighters and weather. |
| | REFERENCES |


©1996-2008 Oregon Websites and Watersheds Project, Inc. and NWMaps Co.