Black Butte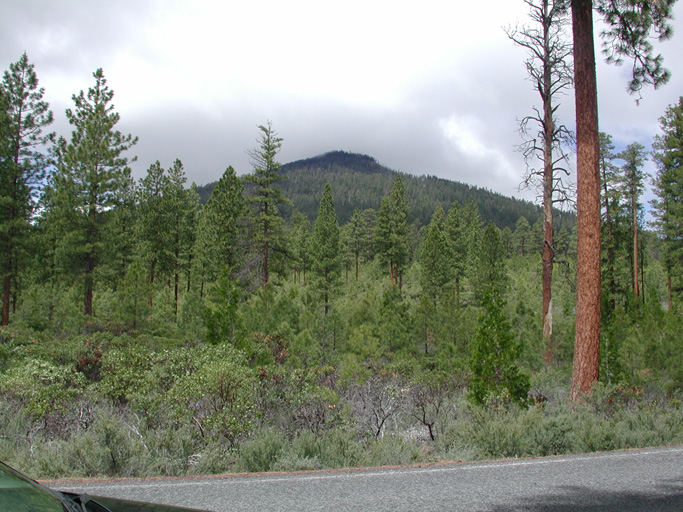 View of Black Butte from the East, June 9, 2004
"Black Butte and her husband were still resting when the bridge [across the Columbia River] fell, and they stayed there at the head of the Metolius River. Green Ridge, the husband, still lies there pouting. There are plenty of deer on Green Ridge. The plants and seeds Black Butte carried took root. We still go there to dig bitterroot, kouse, Indian potato, and looksch, and to gather huckleberries, service berries, little blueberries, and pine nuts. Almost all the plant foods Indians like grow on Black Butte."
From The Grandfathers' Story of Black Butte and Green Ridge by Lucy and Walter Miller (Clark 1953: 12-13)
Black Butte is a storied landmark (McArthur 1982: 63-64) in the southeastern part of the B&B Complex study area (see Map). Local Indian stories survive, such as the Millers' story quoted above, that tell of the origin of Black Butte and the many types of useful and edible plants that were traditionally harvested there.
The summit of Black Butte is reached by way of a two-mile hiking trail. Large berry fields and a variety of native root and bulb crops are in evidence in many places along the trail, particularly in the higher elevations. The remains of an old fire lookout tower, a residence, and several outbuildings are found at the summit, the peak of which is 6,415 feet elevation.
| | | |
| --- | --- | --- |
| | | |
| Black Butte Ranch and Black Butte Swamp, as viewed from Black Butte. Note the B&B Complex burn patterns across the landscape. | Old berry patches, burns, and fields near the summit of Black Butte provide numerous spectacular viewpoints of the nearby Cascades on clear days. | Indian families and communities harvested numerous berries, roots, bulbs, stalks, and seeds that were cultivated and grown on Black Butte. |
Black Butte is located on the boundary between Jefferson and Deschutes counties, to the immediate north of Highway 20, in the SE 1/4 of Tsp. 13 S., Rng. 9 E., and the NE 1/4 of Tsp. 14 S., Rng. 9 E. The headwaters of the Metolius River are formed by giant springs on the northern base of Black Butte.
The first climb of Black Butte for this project resulted in too poor of lighting to take pictures, but three excellent GPS photo points were established that (with better lighting) will show detailed landscape burning patterns for most of the eastern and southern portions of the B&B fire. Spectacular views of Mount Washington, Mount Jefferson, and Three Fingered Jack will be an interesting aspect of future photographs, especially for the 360-degree panoramic files that are planned for construction. Historical photos from the same and similar vantage points--especially the fire lookout tower--should be easy to locate, to compare forest migration and snag history through time for considerable areas of the B&B study area.
| | | | | | | |
| --- | --- | --- | --- | --- | --- | --- |
| Hyperlink | Filename | Description | Date | North | West | Elevation |
| | Black_Butte_01a | Slideshow | | | | |
| | Black_Butte_01b | 360 Panorama | | | | |
| | Black_Butte_02a | Slideshow | | | | |
| | Black_Butte_02b | 360 Panorama | | | | |
| | Black_Butte_03a | Slideshow | | | | |
| | Black_Butte_03b | 360 Panorama | | | | |
| | Viewpoints | Misc. Photos (8) | | | | |
| | Snag_Recruitment | Misc. Photos (16) | | | | |
| | Summit_Structures | Misc. Photos (2) | | | | |
| | Wildflowers | Misc. Photos (16) | | | | |