Professional & Athletic Awards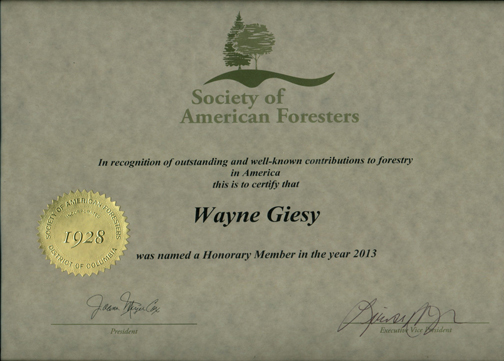 Wayne Giesy, a co-founder of Oregon Websites and Watersheds Project, Inc. (ORWW) in 1996, received two prestigious awards from the Society of American Foresters (SAF) in 2013: an Honorary Membership to the Oregon Society of American Foresters, "In recognition of his life-long support of active forest management and his contribution to forest policy in Oregon," and an Honorary Membership to the national Society of American Foresters, "In recognition of outstanding and well-known contributions to forestry in America."
Robert Alverts, outgoing SAF District 2 Council Representative and incoming SAF Vice-President, initiated the nomination of these awards, based on established SAF criteria. Oregon SAF Chair, Ron Boldenow, submitted the formal nomination, including four Letters of Recommendation by: Bill Hagenstein, long-time friend and associate of Wayne, and former SAF President from 1966 to 1969; Michael Newton, Professor Emeritus of Forest Ecology at Oregon State University; Gregory Miller, Weyerhaeuser Company; and Ann Forest Burns, Vice President of the American Forest Resource Council. The nomination package also included a Biographical Sketch of Wayne's life and career, written by Bob Zybach, Program Manager of ORWW, and Reid Giesy, Wayne's son.
Wayne's nominations were accepted by the appropriate state and national committees and he received his Oregon SAF award at the annual State meeting in Pendleton, Oregon on April 25, 2013. In October he traveled to the annual SAF Convention, held in Charleston, South Carolina in 2013, and received his national award on October 24. At the national convention he delivered a two minute acceptance speech, which was described as "typical Wayne -- a real stem-winder," for which he received a standing ovation from many members, and in which he said:
Ladies and Gentlemen, My name is Wayne Giesy and I receive this award as an honorary member of the Society of American Foresters with a real sense of responsibility.
I am 93 years old and have spent over 50 years (including two terms as an Oregon legislator) advocating management of Federal Forests.
When the Forest Service was established, SAF wrote the management plans that produced products for US citizens and jobs for rural communities. This plan operated successfully for years, and then the environmental community took over.
We now have a policy, "Let it Burn and Rot."
While it has been a privilege to work in the forest industry -- an industry that has a proud history of investing in science to inform continuous silvicultural and environmental improvements -- federal forest management is broken.
My career has spanned both extremes. I've seen it. And I'm here today to say the pendulum has swung too far from management to favor preservation, and our communities are paying for it.
I challenge the SAF to again assert their past success and return as the entity that writes the Federal Forest Management Plan.
I join as one of you -- let's get going!
Thank you.
******************
In addition to the statewide and national recognition that Wayne has received from SAF -- and for which much of those awards were based -- he has received similar recognition for his accomplishments: from Amity, Oregon High School, as an outstanding athlete in the late 1930's; from the Portland, Oregon Wholesale Lumber Association, in existence since 1922; from Benton County, Oregon, for his "Outstanding Contributions in Preserving Benton County's Historical and Cultural Heritage"; and from the Oregon Forest Industries Council, where he has been an active Board Member since 1997, and received the Ted Young Stewardship Award in 2003. A selection of these qualifying awards, and his SAF certificates, are listed below:
| | |
| --- | --- |
| | Portland Wholesale Lumber Association, Lumberman of the Year, Portland, Oregon, December, 1996. |
| | Benton County Historic Resources Commission, Benton County 1999 Cultural Resources Preservation Award, Corvallis, Oregon, May 15, 1999. |
| | Oregon Forest Industries Council, Ted Young Stewardship Award, Salem, Oregon, October 13, 2003. |
| | Amity High School Hall of Fame, Amity, Oregon, February 2, 2013. |
| | Honorary Member of the Oregon Society of American Foresters Certificate, April 25, 2013, Pendleton, Oregon. |
| | Honorary Member of the Society of American Foresters Certificate, October 24, 2013, Charleston, South Carolina. |